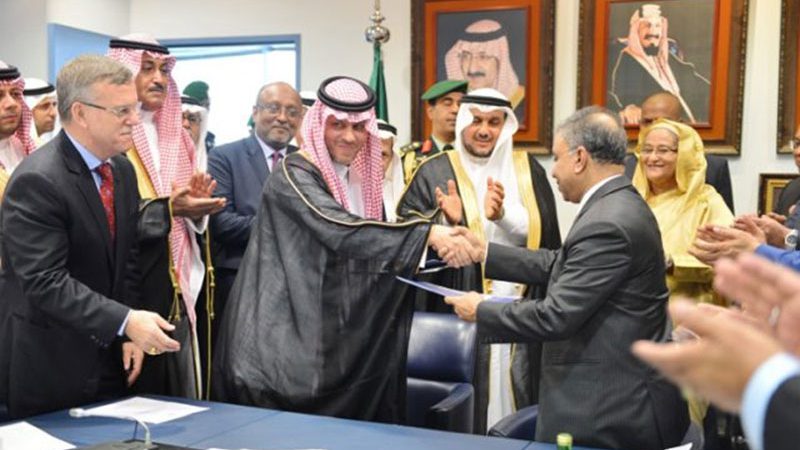 Saudi investors seek stronger partnership with Bangla peers
JEDDAH — Bangladesh Prime Minister Sheikh Hasina Wazed and her delegation met Sunday with officials of the Jeddah Chamber of Commerce and Industry. The two parties discussed methods of commercial cooperation.
Hasina noted that her country is keen to develop investment between the two counties and increase the commercial exchange. According to her, trade exchange between Saudi Arabia and Bangladesh has hit SR4 billion. She added that they consider Saudi Arabia a preferred destination. Regarding the number of Bangladeshi workers in the the Kingdom, she said that they are about 1.3 million.
In addition to commercial cooperation that the two countries want to develop, more cooperation is in demand in the industrial and agriculture sectors. The meeting suggested organizing more meetings between businessmen in the two countries.
The Bangladeshi prime minister promised to ease procedure for Saudi businessmen and highlighted the various benefits that Bangladesh provides to foreign investors. She also called on Saudi businessmen to visit her country and benefit from the investment opportunities in industrial, agricultural and service providing sectors.
On the sidelines of the meeting, a Saudi firm signed an agreement with a Bangladeshi firm to develop mutual investments.
Mazin Batarji, deputy chairman of the JCCI, noted that they have organized lately an exhibition that displayed the products and services of 35 Bangladeshi firms.
The event stressesed on their goal to enhance collaboration with Bangladesh, he added. He highlighted the role that the chamber plays in enhancing cooperation between the private sectors in the two countries.
They expressed hope that they will be introduced to the opportunities that Bangladesh can offer particularly in the industrial and agricultural sectors which will allow opening up the local market to meet the Vision 2030.
source : http://saudigazette.com.sa/business/saudi-investors-seek-stronger-partnership-bangla-peers/