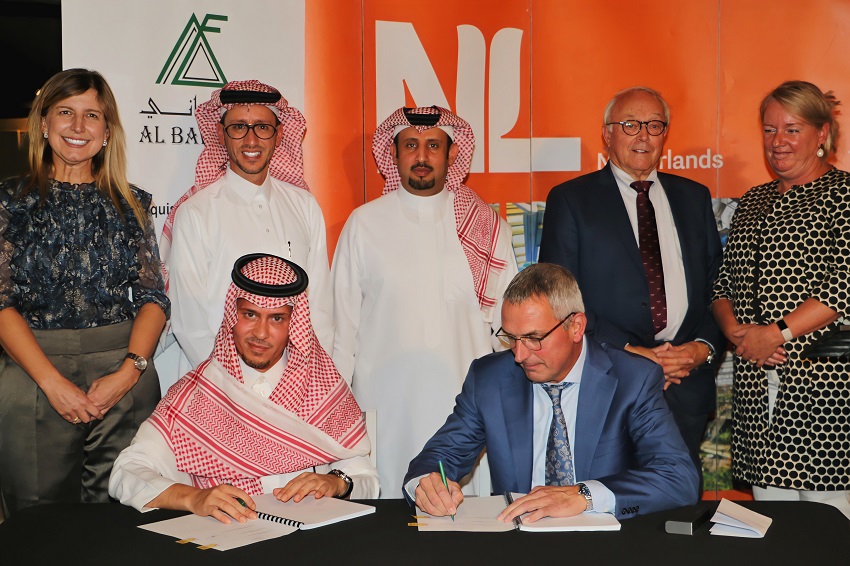 AlBawani Water & Power Company (AWP) signed an acquisition agreement for the entire shares of A-Hak Saudi Arabia at the Dutch Embassy in Riyadh
Al Bawani Water & Power Company (AWP), a leading Saudi utility company, said it has reached an agreement to acquire the entire shares of Dutch firm A.Hak Pijpleidingen's Saudi unit, in a major move that will help boost Al Bawani's growth plans in the water, environment and oil and gas sectors.
The agreement was signed by Al Bawani Group CEO Engineer Fakher Al Shawaf and Dutch A.Hak CEO Henk Herremans, in the presence of the Ambassador of the Netherlands to Saudi Arabia Janet Alberda at a key ceremony held at the Dutch Embassy in Riyadh recently.
Representatives of various entities within the Ministry of Environment Water and Agriculture (Mewa), of Public Investment Fund's (PIF) giga projects and of the Saudi and Dutch business community were also present.
Al Shawaf pointed out that the acquisition of A.Hak represents a valuable addition to the construction and infrastructure sector and it will support Al Bawani's growth plans in the water and environment, energy and oil and gas sectors.
"A.Hak has a proven track record of great success and achievements with Aramco, Saline Water Conversion Corporation (SWCC), and the National Water Company (NWC)."
On the strategic deal, A.Hak CEO Henk Herremans said: "In our 45 years in the kingdom, we successfully completed a large number of bigger and smaller projects together with our partners. Because of the energy transition in the Netherlands, the rest of Europe, and the UK, there is a tremendous amount of work to be realized relatively close to where we are. So, we redefined our home market accordingly."
"For that reason, we started to look for a potential new owner at the beginning of 2021, and after some selections, we entered negotiations with Al Bawani Water and Power Limited," stated the top official.
"And in this period, we experienced the real interest of Al Bawani in becoming the successor for A.Hak Pijpleidingen Saudi Company Limited. We are pleased that our activities in the kingdom will continue through a trusted organization and that the employment for all our people involved is secured," he added.
Al Bawani said it will continue working with the existing clients and expand into new ventures through the PIF companies, such as Neom, Amaala, Roshn, Diriyah Gate, and others.
Also, it will explore ways to cooperate with the National Infrastructure Fund, leveraging its experience in the development, investment and operations of large infrastructure projects to the likes of the National Centre for Privatization (NCP) and Saudi Water Partnership Company (SWPC), it added.