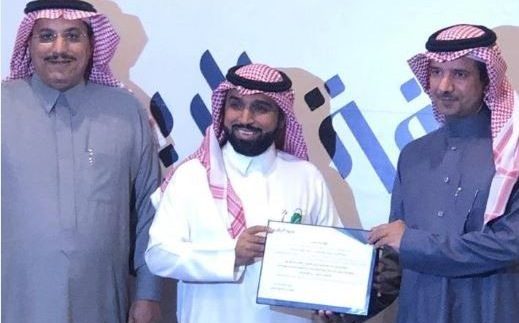 The Deputy Minister of Labor honors Al-Bawani for their efforts in developing and employing national cadres
His Excellency Deputy Minister of Labor and Social Development for the Labor Sector honored Dr. Abdullah bin Nasser Abuthnin, Al-Bawani Co. Ltd. for its leadership in Emiratization and its contribution to achieving the Kingdom's 2030 vision, and received the shield and honor certificate of the Director of Human Resources at Al-Bawani Company Hossam bin Abdullah Alhaidah, in the presence of the Chamber's Vice Chairman Mansour Al-Shathry.
HR Director of Al-Bawani, Hossam bin Abdullah Alhaidah expressed his thanks and appreciation to His Excellency the Deputy Minister of Labor and Social Development for the Labor Sector Dr. Abdullah bin Nasser Abo Thanin for honoring "Al-Bawani" in this major celebration held by the Chamber of Commerce and Industry in Riyadh in honor of the establishments that responded to the resettlement of jobs have And to provide job opportunities for Saudi youth, as Alhaidah directed his thanks to the Chamber of Commerce and Industry in Riyadh, stressing that this honor is a source of pride for "Al-Bawani" and an extension of the support enjoyed by the business sector by the state.
Alhaidah confirmed that Al-Bawani is keen to attract talents from graduates and graduates of the scholarship program, and Saudi universities, and the company has contributed to creating job opportunities for them and qualifying and training them, stressing that Saudization is our strategic choice to develop national competencies in the field of building and construction, as it is one of our pillars to serve the community And that Al-Bawani's realization of this advanced position in the field of job localization is the result of continuous and strategic efforts that the company has planned and works to continuously develop to develop its human resources.
He added that Al-Bawani has achieved a long time ago (the Platinum Band), which is the highest rating in the Nitaqat program launched by the Ministry of Labor and Social Development, which reflects the keenness of General Manager, Engineer Fakher bin Abdulmoeen Al-Shawaf to make "Al-Bawani" an example to be followed in Emiratisation and employment of children and the daughters of the Kingdom in various departments and achieving stability and job security for them and keenness to develop their competencies and capabilities through their inclusion in theoretical and practical qualification programs and courses inside and outside the company in implementation of the slogan that we adopt in "Al-Bawani" (our projects with the help of our youth).
Mr. Hossam Alhaidah pointed out that Al-Bawani Company Ltd. works within its cadres more than one thousand (1000) Saudis, pointing out that the company has entered into agreements and partnerships with local universities (King Saud – Imam Muhammad bin Saud – Prince Sultan – Al-Yamamah University – Science University) to train, qualify and evaluate male and female students prior to graduation through a practical and theoretical program that helps male and female students apply their theoretical and practical studies.
It is worth noting that Al-Bawani is one of the fastest-growing construction companies in the Kingdom and the Gulf, and the company that has a proven record of many major projects in the important health and educational sectors has the confidence of its customers after it demonstrated during its course on its adoption in implementation to adhere to the highest international quality standards, Al-Bawani recently obtained the ISO 9001: 2015 certification in Business Quality and Management
source : http://www.alriyadh.com/1803759