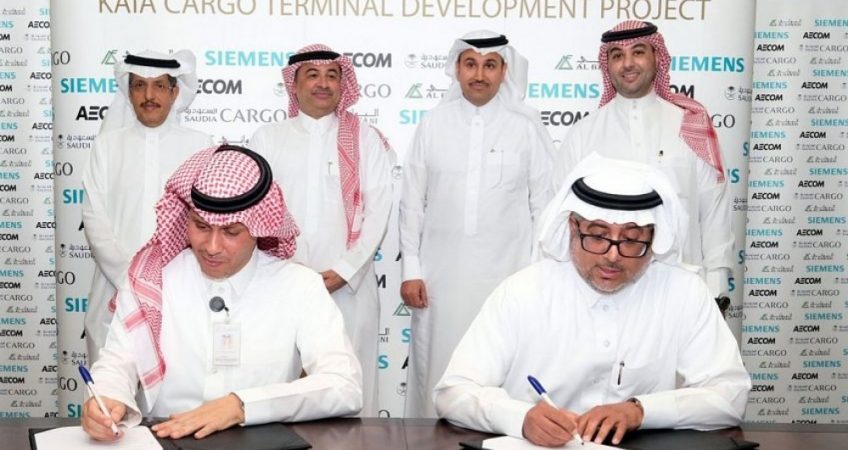 Signing the contract for the construction of the cargo building at KAIA
Saudi Shipping Company Limited signed with a number of companies the contract of establishing and developing the cargo building at King Abdulaziz International Airport in Jeddah.
Saudi Arabian Airlines was represented in the signing of the contract by Fawaz bin Mohammed Al Fawaz, Chairman of Saudi Cargo Company and CEO Omar Bin Talal Hariri, in the presence of Saudi Airlines Chairman Dr. Ghassan Al Shabl, General Manager of Saudi Airlines Saleh Al Jasser and Board Member Saudi Shipping Executive Committee Chairman Mohammed Abu Nayan.
The company is represented by Chief Executive Officer Fakhr Abdul Mameen Al-Shawaf, who is responsible for the construction and execution of the project. Siemens is represented by Chief Financial Officer Mohamed Mohamed to equip and supply the plant with state-of-the-art equipment and systems in the field of cargo handling, "EECOM Arabia Limited" is represented by Chief Executive Ian Manser, who will oversee the new building.
The total area for the reconstruction and development of the building and cargo facilities at King Abdulaziz International Airport in Jeddah is 75,000 square meters, twice the current 35,000 square meters. The first phase of the project starts in June, 2018, where it is scheduled to be completed in November 2019, while the second phase of the work begins in June 2020 and ends in December 2021 according to the implementation plan.
"The project will enhance handling services for many shipments, such as hazardous materials, medicines, refrigerants and various general cargo, and the operational increase of shipping facilities will make a quantum leap in all sectors of Saudi Cargo," he said. , Which was launched by the company recently to keep pace with the vision of the Kingdom 2030 by seeking to be a global logistical and economic platform.