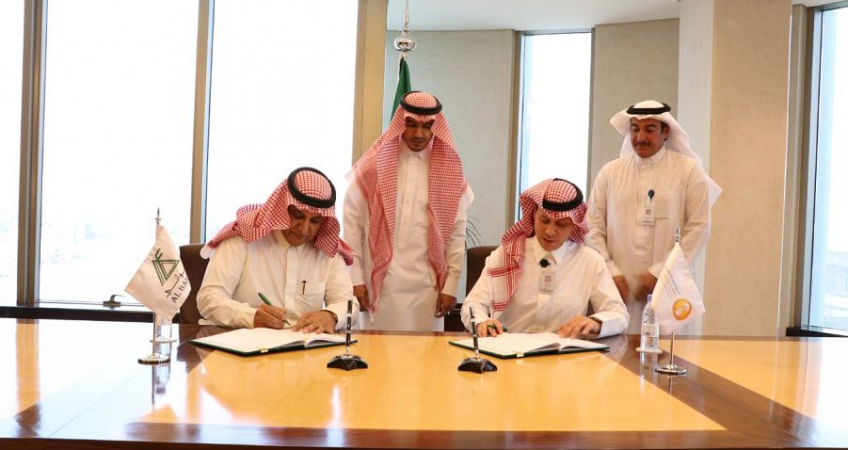 Albawani and General Corporation of grain signs a contract for the project of modernization of steel silos in the branch of the Foundation in Hail
HE Eng. Ahmed bin Abdul Aziz Al-Faris, Governor of the General Grain Corporation, signed a contract to upgrade the steel silos in the company's branch in Hail with the CEO of the company Fakhr bin Abdul Mouin Al-Shawaf at a total cost of 58,511,409 riyals. Among the projects that contribute to the development of the wheat storage system and maintain quality.
Al-Faris explained that this project included the renovation and modernization of iron silos in Hail, which has 32 silos, with a total storage capacity of 200 thousand tons and located on a total area of ​​about 2300 square meters. The project also includes the modernization of all accessories and equipment for silos, New systems to develop the production and operational process and increase the speed of wheat handling operations and raise efficiency through its work automatically linked to a modern software system that facilitates the possibility of monitoring all operations from the control room.
Al-Faris pointed to the efforts exerted by the State, supported by God, to improve the working environment, including the grain storage system in the Kingdom, which will play a major role in maximizing the investment gains and improving the competitiveness of the Kingdom.
At the end of his statement, His Excellency the Governor of the General Grain Foundation thanked the Custodian of the Two Holy Mosques King Salman bin Abdulaziz Al Saud and His Royal Highness Prince Mohammed bin Salman bin Abdulaziz, Crown Prince and Deputy Prime Minister and Minister of Defense, for their unlimited support and care. Foundation, ask God – the Almighty – to preserve them and help them by his victory for all good for the country and the people.
source : https://www.spa.gov.sa/1919188