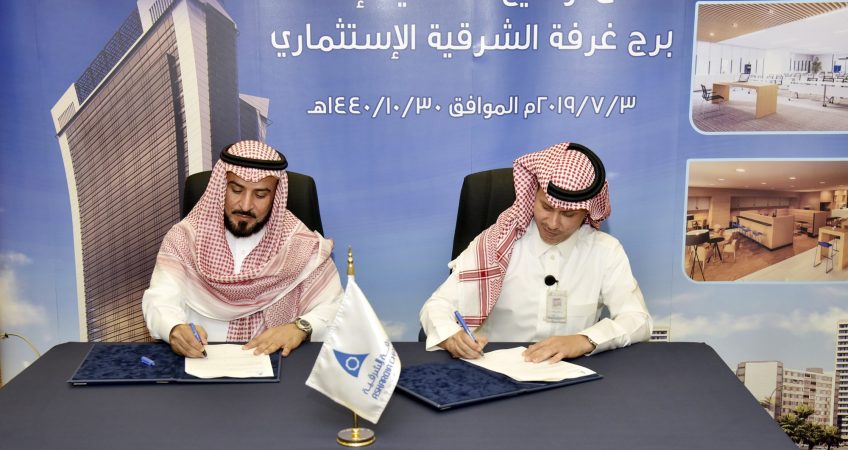 Albawani signs a contract with AlSharqia Chamber for the construction of its new tower project at a total cost of 335M riyals
Al-Sharqiya Chamber signed on Wednesday, July 3, 2019, a contract for the construction of the Al-Kharwa Investment Tower project with Al-Buwani Co. Ltd. The project is located next to the headquarters of Al-Sharqiya President's House at a total cost of 335 million riyals.
The contract was signed by Mr. Abdul Hakim bin Hamad Al-Ammar Al-Khalidi, CEO of Al-Bawani Company, Eng. Fakhr Al-Shawaf, and Mr. Ibrahim Al-Sheikh, Ahmed Al-Muhaidib, Bandar Al-Jabri, Saadoun Al-Khalidi, Salah Al-Qahtani, Dari Al-Otaishan, Anoud Al-Ramah, Nasser Al-Bajash, Wabel.
Al Khalidi said that the Board's decision to move forward with this pivotal project in the chamber's history has great faith and confidence in the future of our national economy and the vital role played by the business sector in national development in achieving the vision of the Kingdom 2030.
He pointed out that the business sector believes that the investment environment in the Kingdom is fertile and attractive to the aspirations of investors from different sectors. He pointed to the desire of the board members to be a distinctive addition to the development movement in the region and a locomotive to attract a variety of investments, And the selection of a national company to implement this large project confirms the readiness of national institutions and companies and their ability to implement major national projects ..
Al Khalidi explained that the Chamber, as it begins the work of the investment tower project, is moving to a new stage that strengthens its position in the business sector. It emphasizes the strength of the Saudi economy and the attractiveness of the Eastern Region for diversified investments. Other objectives include enhancing and diversifying the income sources of the Chamber to carry out its activities in the interests of the business sector.
He said that the design of the project takes into account the various needs that are commensurate with the aspirations of the business sector and facilitate their work, and improve performance, in addition to facilitating communication with the internal capabilities and the external environment, in line with international standards and international standards used in such vital projects and huge.
Al Khalidi stressed that the unique design of the tower offers an innovative environment that suits the modern style of the business community and its services. It is in parallel with the development and renewed ambitions of the business environment in the Eastern Region, which is characterized by privacy and attractiveness. He pointed out that the tower is a qualitative leap in the community level.